Did you know that transportation accounts for almost two-thirds of Hawai'i's fossil fuel use and is one of the highest contributors to the state's greenhouse gas emissions? When it comes to ground transportation, nearly 70% of Hawaiʻi's commuters currently drive alone. Switching to sustainable modes of transportation can collectively improve air quality, alleviate traffic congestion, improve the health of our communities, and help combat climate change.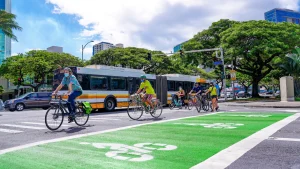 You can be a part of the solution by joining the 2023 Hawaiʻi Commute Challenge: Go Multimodal! This statewide event, happening throughout August 2023, will challenge you to get out of your car and experience the variety of transportation options that Hawaiʻi has to offer. Walk, bike, bus, carpool, or utilize public transportation for any trip — whether to school, the grocery store, the beach, or to work — to earn points, complete challenges, and compete for fun prizes!
Here's what you can expect from the Commute Challenge:
Friendly Competition: Participate as an individual or as part of a team! Your family or workplace can form teams of up to 6 members to compete against each other, or with other businesses and community organizations throughout the month. This will be a great way to build teamwork, and showcase your organization's commitment to sustainability.
Easy Tracking: Through our dedicated online platform, you can easily log your trips, track your progress, climb the leaderboard, and compete for exciting prizes!
Engaging Challenges: Each week will highlight a different mode of multimodal transportation. Earn points for taking any mode for any trip, but earn bonus points for taking the featured mode of transportation for that week.
Climate Positive Impacts: By choosing multimodal transportation options, not only will you be saving on parking, gas, and other costs associated with driving, you'll also be reducing traffic congestion on our roads and contributing to a healthier planet!
Gear up, the Commute Challenge starts August 1st! The Challenge is open to individuals, families, and businesses across the state. Sign up today for FREE by clicking the button below.
Joining as a team? Register individually first, and then have one of your team members fill out this form to get your team created.
The 2023 Hawaiʻi Commute Challenge: Go Multimodal is brought to you by Blue Planet Foundation, in partnership with Oʻahu MPO. Mahalo to our generous sponsors for making this event possible.