The 2023 Hawai'i legislative session has come to a close! Over the past four months, Blue Planet's policy team has been hard at work at the Capitol and in our communities pushing for impactful and durable legislation that will set the course for Hawaiʻi's collective climate future.
This year, Blue Planet's Policy Priorities focused on increasing affordability through energy efficiency, reducing carbon emissions from transportation, and centering equity in our work to address climate change. We're pleased to share that thanks to your advocacy efforts, we successfully passed clean lighting and appliance efficiency standards — two of Blue Planet's top priorities relating to energy efficiency — along with other climate-related bills that are now on the Governor's desk.
Bills that passed:
HB 192: Clean Lighting: Introduced by Representative Nicole Lowen, this bill transitions the state from selling fluorescent light bulbs to more efficient Light-Emitting Diode (LED) bulbs beginning in January 2025. LED bulbs don't contain toxic mercury, use half the amount of electricity, and last two to three times longer than fluorescent bulbs, resulting in life-cycle cost savings for both residential customers and the commercial sector.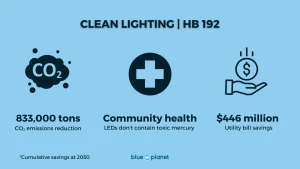 SB 691: Appliance Efficiency Standards: Introduced by Senator Jarrett Keohokalole, this bill sets a minimum level of energy and water efficiency for certain household appliances sold in the state. While large appliances like refrigerators, washers, and dryers are regulated by national standards, states can adopt efficiency standards for appliances that are not regulated by the federal government. In doing so, states decrease energy and water use, save consumers and businesses money, and reduce greenhouse gas emissions and other pollutants.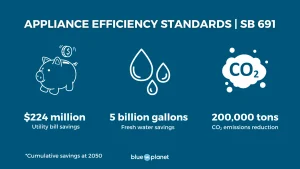 HB 300: "Green Bank" Funding for Solar: The legislature included $100 million in its two-year state budget to go towards the Hawaii Green Energy Market Securitization (GEMS) Program, or the state's "green bank", to increase equitable access to clean energy in traditionally underserved communities. This $100 million appropriation will be used to provide low-interest loans for the installation of solar panels and battery storage systems to low- and moderate-income, renters, nonprofits, small businesses, and multi-family rental projects.
SB 1024: Clean Transportation Goals: This bill establishes zero-emission transportation goals in Hawai'i to decarbonize the transportation sector, which currently represents the largest source of carbon emissions in the state. It also sets up two clean transportation working groups to help Hawai'i achieve zero emissions across all modes of transportation, including ground, sea, and inter-island air transport.
SB 968: Employee Parking Sharing: This bill will reduce transportation emissions by encouraging state employees to carpool and use alternative modes of transportation to commute to and from work. It does so by setting up a program that allows employees to share monthly costs of parking stalls, as well as establishes a pilot program to provide bicycle storage lockers at certain state buildings.
Thank you to all the lawmakers who fought hard for these bills, and everyone in the community who submitted written testimony, testified in-person, and wrote letters to the editor in support of these important measures. You made this happen for our community and our planet!
Bills for next year:
While the following Blue Planet priority bills did not make it out of conference committee and ultimately failed to clear the legislature, they came very close and are measures we hope to advance next session:
HB 346: EV-Ready State Buildings: Requires new state facilities be made electric vehicle charger ready to expand access to EV parking in the state.
HB 193: Energy Efficiency Portfolio Standards: Extends the state's energy efficiency savings goal to align with the renewable energy portfolio standards date of 2045
We want your feedback!
This legislative session the Blue Planet team tracked 134 bills and resolutions, testified on 33 bills, and attended over 50 in-person hearings on climate-related measures. Through our online advocacy efforts, we engaged 600 climate advocates and collected over 120 pieces of individual testimony on priority bills.
Community engagement is critical to ensure we pass bills that will activate equitable and affordable climate change solutions in Hawai'i. As we reflect on the successes and challenges of this session, we want to hear your feedback. How can Blue Planet improve its community outreach and engagement on climate policy? You can help shape our policy efforts by sharing your thoughts via this 5-minute survey.
Mahalo nui for your support.