With the growing urgency to address our climate challenge and the complexity of social issues we are facing, we took stock of our greatest opportunities for systems transformation and identified the gaps where our team could best support Hawai'i's transition to a decarbonized future.
Climate science has made clear that we must cut our carbon emissions in half by 2030 to avoid the worst impacts of climate change. We want to help Hawai'i get there by transforming the systems that underlie the climate crisis. To reach this goal, we will lean on three strategic pillars: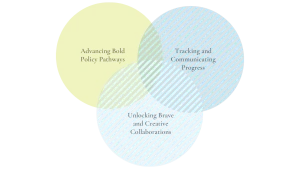 Advancing Bold Policy Pathways: Explore, research, and advocate for policies; build advocacy capacity
Tracking and Communicating Progress: Visualize progress, measure milestones
Unlocking Brave and Creative Collaborations: Strengthen networks, build coalitions, develop unexpected partnerships
In this new strategy, we're doubling down on policy as a tool for systems change. We're holding ourselves and others accountable to achieving our ambitious goals by tracking and communicating our shared progress. We're stepping bravely into the challenging work of action-oriented collaboration and centering equity and climate justice in conversations about our energy future. At our core, we remain the same team of pragmatic idealists, intrepid thinkers, and passionate creatives committed to bringing high-impact solutions to life and solving problems where others see only obstacles.
We know that reducing emissions at the pace and scale needed to avoid the worst impacts of climate change will take unprecedented action. It will also take unprecedented collaboration and a willingness to leave behind old structures that hold outdated systems in place. We still have time to shift course. We hope you'll join us in building something new.