What's the first thing that comes to mind when you hear the words "climate change"? For many of us, we think about frightening extreme weather events or the image of a sad polar bear standing on melting arctic ice. It's easy to feel powerless viewing these images or disheartened after reading headlines that this summer was the hottest year on record.
For young people, the impacts of climate change are being experienced in real time and not some distant-future scenario. Recent studies show that children born in 2020 are expected to face a two to seven-fold increase in extreme climate events compared to people who were born in 1960, and that 60% of Gen Z youth are already feeling "very" or "extremely worried" about climate change. Climate anxiety and dissatisfaction with government responses are widespread in younger generations and are already impacting their daily functioning and mental health.
Youth across the country are taking action.
Young people are already demonstrating their ability to lead climate advocacy efforts through historic constitutional climate change lawsuits. In August of this year, a group of Montana youth won a landmark lawsuit when a judge ruled that the state's failure to consider climate change when approving fossil fuel projects was unconstitutional.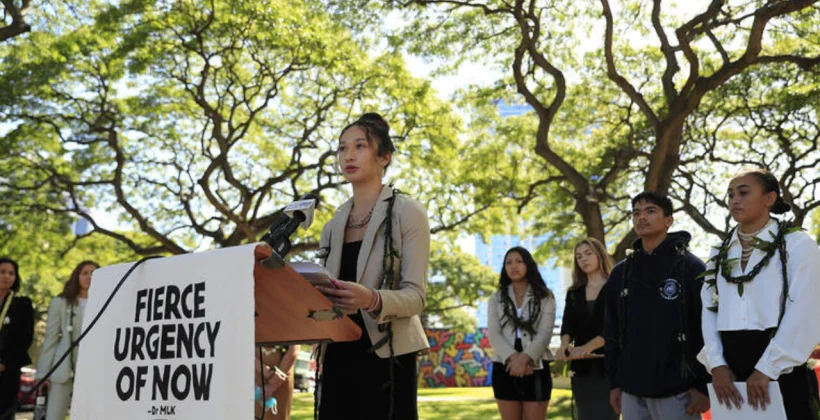 Photo by Jamm Aquino, Star Advertiser
In June 2022, a group of 14 youth plaintiffs in Hawai'i filed the case Navahine F. v. Hawai'i Department of Transportation. Represented by non-profit attorneys from EarthJustice and Our Children's Trust, this youth-led lawsuit argues that by promoting the consumption of fossil fuels and actively emitting greenhouse gases, the Hawai'i Department of Transportation is violating youth's constitutional rights to a healthy environment and future. With a trial date set for July of next year, Hawai'i's case has become the second-ever constitutional climate case to go to trial in the country, and the first-ever to challenge greenhouse gas emissions from the transportation sector.
Are you ready to take action, too? Become a Blue Planet Climate Advocate to help pass bold climate legislation in our state. You'll receive updates from the frontlines of climate advocacy in Hawaii with timely updates on proposed legislation and opportunities to testify on key measures to decarbonize our state.